ULTRAVOLT® UNVEILS THE MINIATURE "XS" AND "US" SERIES
ULTRAVOLT® UNVEILS THE MINIATURE "XS" AND "US" SERIES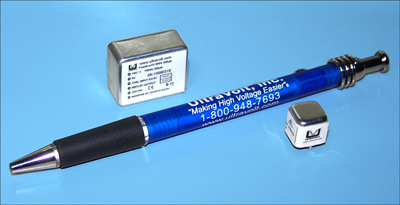 RONKONKOMA, New York – May 5, 2009 – UltraVolt, Inc., the world-leading manufacturer of standard-product DC-to-DC high-voltage power supplies, announced today the first two lines of its new microsize/micropower product offering, the "XS" Series and the "US" Series.

These two new lines represent power supplies unlike anything UltraVolt has previously offered, specifically due to their small size and lower power output. Like the product lines before them, these micropower supplies continue UltraVolt's standard of high reliability and high performance. In addition, the "XS" Series and "US" Series are regulated and offer very tight tolerances, soft start, no overshoot, and current limit protection. The new series are designed and optimized to meet the needs of design engineers with applications such as avalanche photo diodes (APD), silicon photomultipliers (SiPM), and multi-pixel photon counters (MPPC).
The volume for the "XS" Series is just 0.08in3 [1.3cc] and the volume for the "US" Series is 0.35in3 [5.75cc], representing packages up to 97% smaller than UltraVolt's previous smallest power supply, the "AA" Series. Output voltages for these new lines range from 0 to 100V through 0 to 500V, at 100mW output power, with output current ranges from 200µA to 1mA.
"UltraVolt is thrilled to introduce its smallest power supply modules in company history," said James Morrison, CEO and Co-Founder. "These new series continue our tradition of Making High Voltage Easier® by offering reliable miniature high-voltage power supplies to a worldwide market."
For more information about PPM's range of products please contact Phil Surman on 01793 784389 or email: phil.surman@ppm.co.uk or sales@ppm.co.uk.


PR CONTACT:
LINDA DAVIS
PPM Power
Pulse Power & Measurement Ltd.
65 Shrivenham Hundred Business Park
Watchfield
Swindon
Wiltshire
SN6 8TY
UK
Tel: +44 (0)1793 784389
Fax: +44 (0)1793 784391
linda.davis@ppm.co.uk