New High Voltage Dividers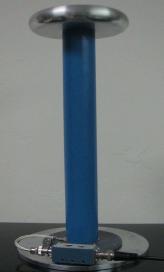 Pulse Power & Measurement Ltd, Swindon UK with North Star High Voltage has launched the new "bare" series of high voltage dividers for measurement of up to 300kV DC. The "bare" probes are based on the industry leading VD series of oil filled dividers, but use dry, encapsulated HV sections. They are available with or without distressing electrodes and are ideal for use in modulators and HV systems to provide accurate and reliable voltage feedback.
For more information about PPM's range of "bare" series High Voltage dividers please contact Phil Surman email: phil.surman@ppm.co.uk, sales@ppm.co.uk or visit www.ppmpower.co.uk.

Sales contacts
DAVE WILLFORD
dave.willford@ppm.co.uk
LINDA SALTON
linda.salton@ppm.co.uk
PR CONTACT:
LINDA SALTON
Pulse Power & Measurement Ltd.
65 Shrivenham Hundred Business Park
Watchfield
Swindon
Wiltshire
SN6 8TY
UK
Tel: +44 (0)1793 784389
Fax: +44 (0)1793 784391
linda.salton@ppm.co.uk